Service
Mobile App Development
Get Top-notch, Extensively, Innovative Mobile App Solution By Us.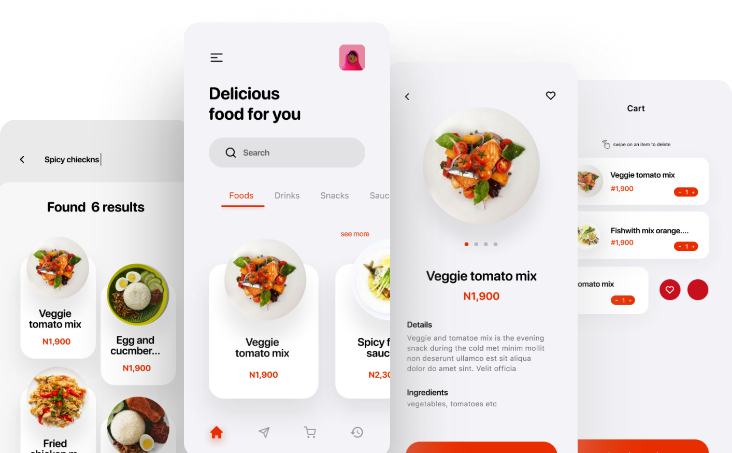 Overview
The smartphone Apps have changed the definition of every day activity in human life. It has been an essential part of our lives and why not? We do almost everything with the help of an app. The world is connected with mobile apps. In this really techie era, iCube Business can help you to craft some excellent mobile application for your business & start-ups.
We have top mobile app developers who are highly skilled and updated with the latest technology trend. Our team works with the global firms to transform recognized ideas into stunning & inventive mobile Apps. We have rich experience and creativity in producing stunning mobile apps for different clients over the world.
Want to Know How Much Exactly Your Mobile App Idea Will Cost?
"The Experts Are Just A Click Away. Get A Quote."
So, every one of us has at least a mobile phone. Even if we ask a toddler to grab a phone or a paper, the first thing they will grab will be a mobile phone. Rather than the invention of the telephone, the invention of the mobile phone is more life-changing than ever. Mobile phones nowadays not just function as a calling and answering machine, but have been an integrated part of our lives. Nowadays, we use our mobile devices less for the calling functionalities but more for other purposes such as connecting through video calls, social media browsing, online shopping, playing games, browsing through the internet and everything in between. We can do all of these things, all thanks to all those mobile applications we have on our phones and millions of other mobile applications that exist on the google play store and apple app store. We can have all those mobile applications because something called mobile app development exists, the term we are familiar with but with the entire concept. So, we are now going to discuss the entire mobile app development guide starting from what mobile app development is to what are the current trending app development technologies and everything in between.
What Is Mobile App Development?
Even though we have heard the term Mobile app development thousands of times in our lives, we can not elaborate on the term mobile app development with a proper definition. If we talk about the definition of mobile app development; it is the process of creating software for mobile phones and other devices such as tablets, desktops, iPads and so on. The software can be pre-installed on the devices or users can get it by downloading it from the app store or the mobile browsers.
You must be wondering why you even need a mobile application. What a mobile application can offer? That's one of the basic questions every business owner faces while starting with the mobile app development process. Let's explore how mobile applications can make your business extra-ordinary.
Why Mobile App Development Is Important For Businesses?
Even though it sounds like nothing, The mobile application can offer small changes that can leave a strong impression on the businesses. The mobile application can help businesses to send off compelling messages to the target user base for a business relationship to generate more leads. These messages are conveyed accurately. With the goal that visitors can turn into a potential user base. Even a push notification can turn into the greatest way of communication that only mobile applications can offer.
Work on User Expectation

Mobile applications are important in fulfilling user requirements. Users are for the most part glad to find a mobile application that is not difficult to browse through and fulfil their requirements without demanding any extra effort. Mobile applications can enhance the user experience through third-party tool integrations.

Strengthening Reliable Consumers Base

One more benefit of having a mobile application for your organization is that it provides you with a consistent comprehension of client demands. Organizations can keep up with their customers by providing various kinds of discounts and offers such as rebate coupons, vouchers, and so on. The plan of action grants you to offer discounts to mobile app users and is affirmed to be the best procedure.

Helps in Business Growth and Deals

Businesses frequently focus on examining new techniques that exist in the market for the utilization of methodologies to work on mobile applications for their drives. With the explosion of mobile app users, there ought to be an expansion in deals while fulfilling the clients' necessities. Mobile applications are exceptionally compelling in guaranteeing progress levels over a brief period.

Better Understanding of The Customers

The mobile application offers organizations a wonderful chance to grasp their target user base. In particular, the mobile application delivers a huge way for organizations to manage research and use user information. Learning client thought processes, their preferences, and who your users are, can guide you to make the appropriate strategic planning that focuses on your marketing tactics. Organizations can use these marketing techniques to offer a better user experience.

Business Plans Analysis

The mobile application helps businesses to generate accurate and extensive statistics that can help them predict the future of the businesses with better analytics. The mobile application helps the businesses gather crucial information such as the number of visitors, the time they have spent on a specific page, how many times they have visited the specific page and various others.

Ditch The Geographical Location Barriers

With many mobile applications, your business automatically ditches the location barrier. It permits you, your workers, and your clients to stay in touch with each other regardless of timezone and location differences. It opens up the market base for the customers that used to be a barrier for the traditional businesses.

Customization

The reason individuals esteem applications are that they assist clients with feeling unique. At the point when you visit a website, you are consistently a guest. That's not the case with mobile applications, it provides the homely experience through customized features and functionalities.
Importance Of App Development In Different Industries
There is no rocket science in understanding that not every business belongs to the same industry. But there is another fact that mobile apps can help every business to enhance their services no matter which industry they belong to. There are various industries that already exist that mobile app development has enhanced. Let's explore the importance of mobile app development in different industries.
Education

Mobile innovation has made learning simple and affordable right now. In the period of e-learning, the mobile application upgrades the interest of students in learning and understanding subjects effectively and rapidly. These days, from nursery to postgraduate, mobile applications help in delivering the subject sumptuously. Colleges, universities, and primary and higher secondary schools too as private training classes can further develop guidelines of quality learning by utilizing the instructive education mobile app that additionally helps in offering customized learning sessions to every student. It likewise helps in effectively handling the general arrangement of the entire educational system.

Games and Entertainment

In light of a Statista overview, the Gaming industry ranks one of the top industries in the list of top mobile applications showing roughly 20.5 billion in income on the worldwide level. Gaming mobile applications offer clients an engaging experience with complete amusement without any age barrier.

From renowned animation characters to most loved entertainers and idols, gaming and entertainment applications are administering the application business. A pattern of film applications before their release likewise attracts the attention of a worldwide crowd.

Even the gaming mobile applications have different categories that include mind games, sports, adventure, education, action, and racing and it's just the tip of the iceberg. These mobile-based games can attract individuals without putting any restrictions on age bar, locality or any other.

Travel and Tourism

Travel and Tourism applications additionally become one of the most famously utilized applications around the globe. These days, the travel industry enterprises began looking for the assistance of mobile app makers to upgrade the travel app development and prestige of their business. Knowing the realities about the huge advantages of mobile applications for the travel industry business, today, the travel industry is appreciating acquiring unexpected results.

A mobile application helps travellers around the globe to plan their trips proficiently and rapidly providing cost-effective ways. Additionally, adding numerous valuable features of travel mobile applications such as weather updates, accurate map locations, nearby places to explore, famous food stalls or shopping centres can help you attract more app users than ever.

From finding a place to stay based on the budget to booking flight tickets, these days, travel applications can contain all exceptional features and functionalities to serve users with fast and precise services right at their fingertips.

Logistic

Mobile applications for transport can help the logistic industry by further developing client administrations, workforce management and numerous others, like live tracking vehicles, deliveries, and accurate locations of the staffers as well as assigning alternative routes, task assignments and so on. You can develop various logistic-based mobile applications such as ride-sharing mobile apps, on-demand hire vehicle mobile applications and various others. To work on the viability of the logistic business, various sorts of mobile applications provide end-to-end mobile app development solutions that can help enhance the traditional norms of the logistic industry.

Manufacturing

With the rising utilization of technology in each area, the manufacturing industry has likewise ventured ahead in taking benefits utilizing the latest technological innovation including mobile app development. The cutting-edge features and functionalities of the mobile application enhance the traditional norms of the manufacturing industry automating the process of handling the perplexing tasks of the unit flawlessly. Along with that, the mobile app can also help to streamline the in-house processes of inventory management, quality assurance, order generation, client management, coordinated operations, bill generation, the status of the working process and various other things that used to be a headache for the manufacturing unit owner.

Healthcare

In the consistently expanding difficulties of the healthcare industry, the mobile application works as a wizard for this industry. From significant clinical examinations, research processes and surveys to putting away crucial research-based information, mobile applications assist the healthcare sector to manage and monitor the movements of every kind of the medication previously and before its release in the market for the usage. It additionally assists with grasping their product effect and carrying out it precisely later on.

In addition, a mobile app for drug specialists helps in collecting all information effectively and rapidly, offers quality consideration and diminishes desk work. Apart from that, access to sharing patient information, communicating with patients and doctors, providing more customized care to patients, and a lot more to offer continuous responsive administrations. If we consider current trends, the on-demand medicine delivery mobile applications are ruling the world right now.

Banking & Finance

Mobile applications meet every one of the goals of the banking and finance industry by offering unparalleled benefits to their users. Containing top-of-the-line security levels in an application, the mobile banking application turns into the most helpful apparatus for the business to charm the clients. It helps the financial area to further develop customer engagement, offer enhanced assistance and remain connected by enlightening them about new monetary products, plans and offers. A few simple-to-use elements can make the banking application aid its clients. Subsequently, a productive mobile application helps engage more and more user base.

Here, we have listed just a few of the industries so if you think your business does not belong to any of these industries; don't be discouraged. you can still enhance your business through app development. You can reach out to an Mobile app development company with your business requirements, they can help you figure out the ways to enhance your business with mobile app development. If not, would you like to explore the trending mobile app ideas that can be just a side source of income for you and who knows can be the primary one in the future as well?
Most Trendy Mobile App Ideas 2022
Now you have all the required knowledge about the app development process that you should have but wait do you really want to stand out from the others? Do you think your app development idea will help you stand out? If you have a second thought about it, here is the list of trending mobile app development ideas that can help you stand out from your competition and help you earn as well.
On-Demand Food Delivery Mobile Application
As per Business of Apps, the complete income from on-demand food delivery mobile apps in the US alone came to $26.5 billion out of 2020 brought by 111 million dynamic clients. Also, the extended income from such applications will be $42 billion by 2025, and that implies that this market speciality is really encouraging for new businesses. These applications work with various eateries and restaurants, and food stalls and they change in value – that is the reason users frequently need to download 10 different food delivery mobile applications to fulfill every one of their necessities. You can tackle this issue by making a helpful aggregator – to some extent inside one city.
You can hire On-demand app developers that can develop a solution to show the biggest amount of food sellers and permit users to look at costs and estimated delivery time. Another smart thought is to add a few features such as search, food preference filters and various others so users could track down the most ideal choice for their food preferences. You can charge a small amount from the sellers whenever users order their food through your application as your monetization method. Another choice is a modest membership – in the event that users regularly order food through your application and get the special discount and offers, this benefit will be greater than the membership cost. Be that as it may, you can not utilize this model immediately – users need to track down the worth of your product list first.
An Augmented Reality Mobile Application
We can not consider Augmented reality a trending technology now but even with this much popularity, we will not find many successful and popular AR-related mobile applications. AR-based mobile applications can rule in many industries such as can introduce a travel application that helps the users to get a real-life traveling experience even without actually visiting a place. You can introduce an AR-based e-learning mobile application that can help the medical student to have their practical lessons without actually working with the real corps or engineering students can have practical lectures without visiting the site. You can make your ordinary mobile application extraordinary by introducing the augmented reality feature no matter which industry you belong to. For AR-based mobile applications, you can earn through the freemium model, in-app purchases or advertising as well.
An Internet of Things (IoT) Based Mobile Application
IoT-enabled appliances offer a way to enhance our day-to-day life through the smart home, smart locks, smart office, smart parking and down-the-line smart city. Even if we have thousands of smart appliances, we will need a way for remote communication. Your mobile app development can be that way of communication. You can make users' lives easy by allowing them to access their smart appliances through your IoT mobile apps and keep them aware of the safety and security of their belongings.
A Video Streaming Mobile Application
Even though many individuals actually incline toward full screens, most users can not access their laptops or big screen whenever they want such as on public transport or even at a remorse place. You can offer a cross-platform video streaming mobile application with an extensive range of features and functionalities that can deliver an outstanding user experience on every device. Rather than limiting the video categories to the specific ones you can cover every aspect of the video streaming including talk shows, reality shows, movies, series, product reviews, online tutorials, lectures and various others. You can utilize a freemium model that can help you earn through the mobile app while providing necessary video content to the users.
A Music Streaming Mobile Application
Music streaming mobile applications can be one of the most trendings mobile app ideas in the year 2022. But keep in mind you can win over your target audience only if you can offer what they exactly want. If we take Spotify as an example it is popular among the users not only because it offers music but it also offers a customized user library consisting of enormous music and digital podcast library based on their search results and history. It's difficult to rival Spotify yet you actually can be extraordinary in the music streaming mobile application market. For instance, you can make an application that just delivers the freshest deliveries. You can likewise add surveys from music columnists and a taste-based search channel. Your monetization method can be selling band merchandise and offering show passes or making your application content to some extent paid.
An E-learning Mobile Application
Individuals are prepared to pay for e-learning applications in light of the fact that the comfort of a mobile application permits them to learn in a hurry. Microlearning is an instructive pattern that goes in accordance with ? learning through mobile phones – it is a short and concentrated opportunity for growth with scaled-down classes and delivery that copies genuine critical thinking. This approach permits employees to obtain both hard and soft skills rapidly, on-demand, and without feeling intellectually wrecked. There are now a lot of online courses available for the employees. In that case, you can show individuals anything: writing, reasoning, law, art anything. You can likewise assist individuals with getting ready for tests or jobs on their overall learnedness or expert capability. Simply keep it brief: brief recordings, reduced-down learning lessons, speedy tests and various others. As far as monetization methods are concerned, you can make your content completely paid or execute a membership administration offering a free trial of learning sessions.
A Networking Mobile Application
People around the globe do use various social media applications such as Facebook, Instagram, LinkedIn and so on but none of them offer networking opportunities. According to the study directed by LendEDU, 44% of the youngsters use tinder, not as a dating mobile app but to boost their confidence and social communication skills. So, you can understand the need for a networking mobile application that can help the individual not just find the employees but business partners. Where can individuals track down instructors, specialists for articles and talks, and collaborators? You can develop a networking mobile application for that. You can add various filters allowing app users to search by field, skill level, and location. In applications like this, individuals will actually want to track down a legal counselor to help their business or a psychology expert to team up with on Instagram Live. You can monetize your networking mobile application utilizing a membership model. For instance, premium users can have more advantageous advanced search filters.
A Language Learning Mobile Application
In any case, even after the pinnacle of lockdown, e-learning is still popular. As per ReportLinker, the educational app market in the US is assessed at $90 billion in the year 2021. Furthermore, that's what Statista shows: "education" was the third most famous industry in the App Store, making 8.66% of search requests. This information shows that educational applications have a market need and energetic development viewpoints, including monetization.
For instance, individuals like to learn foreign languages all over the planet – so why not make a language-learning mobile application? An application like this ought to have video lessons or text content that concentrate on materials and practice choices like self-check tests and video calls with individuals from various nations.
It may very well be challenging for new businesses to rival bigger language learning mobile applications since it will be difficult to draw in an adequate number of individuals for language exchange calls. However, you can tackle this by proposing free rewards for regular activities in your application. You can likewise add classes with proficient educators to adapt the mobile application with in-app purchases or membership and so on.
A Voice Translation Mobile Application
People are traveling around the globe whether it could be for a business purpose or for traveling purposes. And even though we think English is a global language, no it's not. Many people around the globe who don't even speak English and various others like to communicate in their own national language even with foreigners. So, you can develop a voice translation mobile application that can help foreigners to understand different languages. It can also work as a personal tour guide. It can be a way of communication as well. As a monetization method, you can offer a freemium model that facilitates users with limited-time free access to your mobile application.
A Reservation System Mobile Application
No one likes to wait in lines for long. You can help them skip those lines by introducing a reservation booking mobile application. You can allow them to reserve their seats in a movie theater or in a concert and even in their favorite restaurants. You can offer it all in one reservation system that allows users to book their tickets for everything starting from a bus to a concert all under one roof.
A Virtual Interior Design Mobile Application
AR technologies are now sufficiently grown to involve them as a reason for extraordinary items made for different regions. For instance, you can introduce a mobile application that can allow users to add a photograph of their room and afterwards take a stab at "renovating" it with various interior plans: change wall colors, try different things with light, add and eliminate shades, furniture things, and so on. This is an extraordinary mobile application though even for a start-up business you could monetize by collaborating with furniture stores or interior design consultants.
A Cooking Recipe Mobile App
There is no doubt in knowing that, people around the globe are focusing on developing their hobbies, maintaining their lifestyles and for both of them cooking ranks at the top. Those days are long gone when people used to run away from the kitchen. The pandemic has encouraged youth to build a healthy lifestyle whether it could be making a Dalgona coffee or planning a home dinner date with self-cooked food.
Taking into account the rising ubiquity of self-cooking, go ahead and develop a cooking recipe application with dietary suggestions. You can likewise add feed and chatting functionalities that can allow users to share their cooking recipes and food pictures with each other. Cooking is an everyday practice, so your mobile app users would be glad to see an application with categorization based on popular food recipes to facilitate their day-to-day existence. What's more, home cooks will get a potential chance to become specialists. You can monetize your mobile application through collaboration with food companies or offering subscription models.
A Reading Mobile Application
Simple reading mobile applications are really well known – for instance, by December 2021 IReader, the greatest reading mobile app in China, had 87.5 million active readers. Be that as it may, to contend with such large players, you can focus on more speciality content. You can make a reading mobile application that offers content with kids' books, non-fictional books, the XXth century writing or obscure and intriguing works. Make a library, and distribute audiobooks or translations to various languages for reading and vocabulary practice. Furthermore, if you need to adapt your reading application, put down a boundary for books accessible each month and add additional paying choices relying upon the amount of a bibliophile the mobile app user is.
A Social Gathering Mobile Application
Based on the report of Global News Wire, the dating mobile application market has been consistently developing and is going to flourish more. In 2020, the total dating mobile application income came to $3.08 billion. The greatest players available in the US-in view of the MAU are Tinder and Badoo. 48% of dating application users have their profile in one of these applications. So it will be difficult for new businesses to fight in their ways with the existence of these large mobile applications like Tinder – that is the reason we recommend a focus on niche-specific markets. For instance, as per the OnePulse review for The Wall Street Journal led in 2021, 35% of individuals matured 16 to 24 utilized dating applications to find people for socializing throughout recent months.
Enormous market players saw the requirement for socializing partner down choices – like Bumble who added their BFF mode well before the pandemic. Be that as it may, there's as yet a requirement for "friending" applications in more niche-specific markets – and here's where new companies can flourish.
You can focus on developing friend-finding or find socializing-partner applications for individuals with explicit side interests like fishing, dancing, climbing, or arts or startup innovation. Or on the other hand a specific segment like young mothers. It will assist individuals with mutual interests to communicate with each other and find someone with similar choices. Such mobile applications can have incredible monetization opportunities like paid profiles or freemium.
A Healthy Lifestyle Mobile Application
Lifestyle mobile applications are growing more than ever. As per the report made by Sensor Tower, USA-based individuals spent almost $300 million on similar kinds of mobile applications and the number of mobile application downloads for this category crossed 151 million.
Taking into account this mobile application trend in the business and the expanded health concise because of the pandemic, a healthy lifestyle mobile application can be one of the popular mobile app development ideas in 2022. Your application can offer various features such as a calorie consumption tracker, a chatbot with exercise counsel contingent upon users' lifestyle, and a personalized feature that permits users to browse through and connect with nearby swimming pools, wellness clubs, gyms and running parks and so on based on their location. The mobile app can be monetized allowing different fitness trainers to post their workout sessions and offer video sessions for other users to build a healthy lifestyle through the paid membership. You can even allow individuals to promote their wellness clubs, athletic gear, and nutritious food products through your mobile app platform.
Even though the mobile app sounds like it belongs to just mobile devices, you are wrong. There are various types of mobile app development that you should be aware of.
Want to Know How Much Exactly Your Mobile App Idea Will Cost?
"The Experts Are Just A Click Away. Get A Quote."